The Million Dollar Babe Project was written for the heart centered woman who is ready to step into the expansiveness of her light and share her sacred gifts with the world.
Every day comes with a quote, a question, and a quick step, followed with an affirmation and prayer all which are designed to gently nudge you forward in the direction of your dreams.

Its 40-day journey will facilitate the luxury of your awakening to the knowing that you are exactly who you need to be, to fulfill your destiny and the dreams upon your heart.
Day by day your vision will be enlarged and you will increase in confidence, which will grant you the freedom to walk your chosen path, steadfast and firm in your value.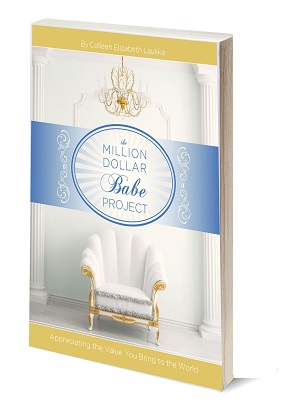 The Million Dollar Babe Project is not about the money, it's about you, and the energy you bring to the money, and the value you believe you have in creating the money.

Because only you can declare your value to the world…only you!
"The Million Dollar Babe Project will help you appreciate the value of your greatest asset - YOU!"
-MARCI SHIMOFF, New York Times bestselling author of, Love for No Reason and Happy for No Reason